Sikhala's wife refused permission to give him food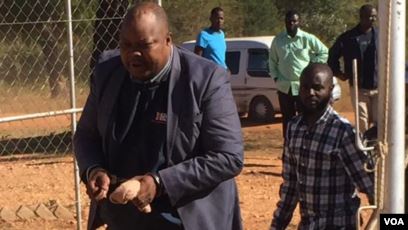 Staff reporter
Detained MDC Vice Chairman, Job Wiwa Sikhala is having terrible time in Chikurubi Maximum Prison.
His wife Mrs Sikhala was today denied access to him to deliver food.
This is a responsibility she has been carrying out religiously since her husband was detained on charges of inciting violence.
She was shockingly sent back today with her full plates, leaving her husband hungry.
"They just said I am not allowed anymore to bring food from outside. No reason was given," said Mrs Sikhala.
Without outside food supplies, Sikhala is now surviving on water and biscuits. Sikhala like all other political prisoners are not eating prison food after being tipped by sympathetic prison officials of possible food poisoning.
The wife also reported yesterday that the chained and firebrand Zengeza West legislator's legs were swollen. She revealed that the chains clasped on his legs and hands were causing his legs to swell.
'Wiwa' as he is affectionately known is being kept in legs iron at Chikurubi Maximum Prison.
The 31 July Movement (J31M) spokesman will be in the High Court tomorrow to appeal against the denial of bail by a Harare Magistrate Lanzini Ncube last Thursday.
His lawyers launched an appeal at the High Court last Friday and were given Wednesday as the day of hearing.
He is being represented by a high profile legal team headed by advocate Eric Matinenga, Harrison Nkomo and Jeremiah Bhamu.